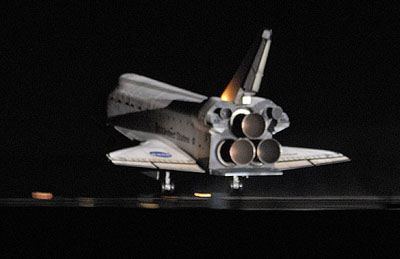 Endeavour landed yesterday on its penultimate mission. I tweeted about it, noting that there are only four space shuttle missions left on the manifest. My friend Patrick just asked me what's next for NASA after the Shuttle retires. My reply on Facebook turned into an essay, so I thought I'd share it here.
What comes after the Shuttle? All the things about NASA that don't make the headlines will continue. Some even get more funding. The Shuttle has been the poster child for 30 years, but in the meantime, NASA has been instrumental in furthering our understanding of climate dynamics, earth observation, deep space astronomy and cosmology. Robotic planetary and solar exploration, cutting edge research in biology, materials, aeronautics, energy generation, propulsion, you name it, have all continued. Shuttle launches are sexy. But when they end, perhaps a little more light will be shed on everything else NASA does. Cassini, the robotic probe that has taught us more about Saturn and its moons than we ever knew before, just got a seven year life extension. And human space exploration isn't dead; the Falcon 9 rocket just went vertical last week, with a test capsule that SpaceX claims can be human rated. Static test firings of the Falcon 9 could come as early as this week. Private subspace (read: Virgin Galactic) should come online this year. The Russians are cranking out Soyuz launches like Henry Ford did Model Ts. Europe, Japan, China, & India all have launch systems. The Shuttle will stop flying, but humans won't. Maybe if we're lucky they'll resurrect the HL-20. Or the X-33. And don't forget: the Air Force has a spaceplane now.
Humans have had a continuous presence in space since the year 2000, thanks to the International Space Station. Think about it. For the last decade, a single second hasn't passed that someone wasn't zooming over your head at 17,500 mph. It may sound pie-in-the-sky, but that's the reason I answered a question about NASA's future with international and private examples: as we go forward, this will be a cooperative effort. It's one planet. One home. That is an inescapable fact. We are one species. Why not pool our efforts? There's no need to reinvent the rocket just because you live in a particular spot on this planet behind some imaginary line. There's no need for every country to send an individual probe to the moon or Mars just because we hoard information about our solar system as if we own it because we were the first to discover it. A fact is a fact; congratulations on learning it first. Now SHARE.
Newsflash: you can't see borders from space. In my book, that means they don't exist. They are mere constructs, accidents of history, that everyone seems to agree upon. They are fiction. Made up. There is true reality, and then there is that of which we are convinced. Exploration is inevitable. So is growth. I hope the void left by Discovery and the other shuttles makes room for the spaceships…and discoveries…of tomorrow.